Purple Heart Recipients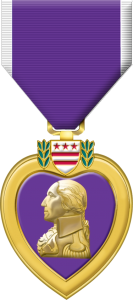 The history of the award known as the Purple Heart dates back to the American Revolution and General George Washington. At a time when moral among the soldiers under General Washington's charge was at an all-time low, the future President of the United States created a way to boost moral by establishing the Badge of Military Merit. It is this award that served as the precursor to the Purple Heart.
It was Washington's desire to have this award remain a permanent one. However, upon the end of the Revolutionary War, this award was all but forgotten. It was not until 1932 that the Purple Heart was created in keeping with the wishes of General Washington.
This page will recognize the Oneonta High School alumni who, through their commitment and sacrifice, have received this honor.
Having trouble finding someone?
Try the search bar

| Class of | Picture | Student Name | Branch of Service | Conflict | Rank | RIP |
| --- | --- | --- | --- | --- | --- | --- |
| 1962 | | Patrick Delaney | USA 1965-1969 | Vietnam War | CWO2 | 1/26/22 |
| | | Jack Anthony Oliver | USA | Korean War | PVT | 9/6/1952 |
| | | Hilton L Mitchell | | Korean War | SFC | |
| | | John Francis Donlin | USA | Korean War | SFC | 1/23/1952 |
| | | Adrian Gregory Blanchard Jr | | WWII | SGT | 11/30/1950 |
| | | Richard Paul Anderson | USA | Korean War | PVT | 6/5/1953 |
| | | Edward John Roman | USA | Korean War | CPL | 8/27/1951 |
| | | Herbert W Blanchard | | WWII | | |
| | | Gilbert Wright | USA | WWII | 1Lt | 1/30/1944 |
| | | David Forrest Wilber | USA | WWII | 1Lt | 4/19/1945 |
| | | Francis E Waterman | USAAF | WWII | SSGT | 6/13/1943 |
| | | Louis S Super | USA | WWII | SSGT | 6/27/1944 |
| | | Joseph H Speranzi | USAAF | WWII | SSGT | 11/9/1942 |
| | | Frank Smith | USA | WWII | PFC | 11/6/1944 |
| | | Rober C Schaffer | USA | WWII | SSGT | 8/18/1944 |
| | | Nicholas C Rosher | USA | WWII | SSGT | 6/24/1944 |
| | | Earle Jaye Robinson | USNR | WWII | SM | 12/24/1943 |
| | | Edward R Reynolds | USA | WWII | TSgt | 12/21/1944 |
| | | Ernest S Price | USA | WWII | TSgt | 7/31/1944 |
| | | Douglas Leroy Platt | USA | WWII | PFC | 7/6/1944 |
| | | George Pappageorge | USA KIA Luzon Philippine Islands | WWII | CPL | |
| | | James Nilo | USA | WWII | PVT | 6/11/1944 |
| | | Ivan G Nichols | USAAF | WWII | SGT | 8/23/1944 |
| | | William Gage Moody | USMC | WWII | PFC | 3/1/1945 |
| | | John Allen Miller | USAAF | WWII | PFC | 7/1/1943 |
| | | William W Merithew | USA | WWII | PFC | 12/7/1941 |
| | | Lloyd S Mayo | USA | WWII | CPT | 5/28/1945 |
| | | Ralph T Marino | USA | WWII | PFC | 4/21/1945 |
| | | Henry E Markle | USA | WWII | SSGT | 7/7/1944 |
| | | Owen J Jones | USA | WWII | 1Lt | 2/22/1945 |
| | | Fred Davis Hodges | USAAF | WWII | 2Lt | 7/28/1943 |
| | | David W Hodges | USA | WWII | 1Lt | 2/11/1945 |
| | | Frederick R Heck | USA | WWII | SSGT | 5/13/1945 |
| | | Robert T Hardy | USA | WWII | PVT | 11/4/1945 |
| | | George Grosse | USN | WWII | MM | 3/1/1942 |
| | | John E Goodrich | USN | WWII | LTjg | 3/21/1945 |
| | | Harry W Georgeson | USA | WWII | PVT | 9/22/1944 |
| | | Allen B Every | USA | WWII | PVT | 12/28/1944 |
| | | William F Drew | USAAF | WWII | 2Lt | 11/9/1944 |
| | | Emerson H Dedrick | USMC | WWII | MAJ | 3/24/1945 |
| | | Lewis J Cope | USA | WWII | CPL | 10/16/1945 |
| | | Herbert P Cawley | USA | WWII | PVT | 6/21/1944 |
| | | Robert G Caulkins | USA | WWII | PVT | 10/7/1943 |
| | | Willaim D Cargill | USA | WWII | SGT | 3/9/1945 |
| | | John F Bruce | USA | Unknown WWII | PFC | 4/27/1945 |
| | | Richard C Brown | USAAF | WWII | 2Lt | 3/24/1945 |
| | | John F Brienza | USA | WWII | PFC | 12/9/1944 |
| | | Frank E Bond Jr | USAAF | WWII | PFC | 6/11/1944 |
| | | Anthony Amitrano | USA | WWII | PFC | 9/4/1944 |
| 1936 | | Sam Bertuzzi | USN -Distinguished Service Cross | WWII | unknown | |
| 1966 | | Michael Hassick | USMC - Earned 2 purple hearts | Vietnam War | Unknown | October 16, 2016 |
| 1967 | | R. "Dick" Harrington | USA | Vietnam War | | |
| 1966 | | John Harrington | USA | Vietnam War | CWO2 | 2013 |
| Unknown | | Robert A. Wiedeman | USMC, KIA, RVN, February 25, 1968 | Vietnam War | Unknown | 2/25/1968 |
| Unknown | | Leon E. Waters | USA KIA, RVN, February 24, 1968 | Vietnam War | Unknown | 2/24/1968 |
| Unknown | | Donald A. Rittlinger | USMC KIA, RVN, December 22, 1968 | Vietnam War | Unknown | 12/22/1968 |
| 1963 | | Richard G. Kohland | USMC Rifleman - Purple Heart KIA (Killed in Action) - November 10, 1967 | Vietnam War | Lance Corporal | 10/10/67 |
| 1964 | | Arthur D. Elmandorf | USA Infantryman- Purple Heart KIA - July 10, 1968 | Vietnam War | Specialist Fourth Class | 7/10/1968 |
| 1965 | | Burdette D. Townsend, Jr. | USA Helicopter pilot - Purple Heart- Air Medal KIA - June 20, 1972 | Vietnam War | CWO2 | 6/20/1972 |
| 1968 | | James C. Wheeler | USA Infantryman/ Paratrooper -Purple Heart KIA - May 20, 1970 | Vietnam War | Specialist Fourth Class | 5/20/1970 |